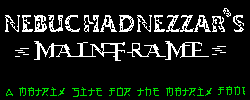 Go Deeper...



Wap preview page is now open! Click picture to continue.
VRML site is now open, VRML 2.0 browser requierd.

What dose that mean. Click Hear!
"The Matrix" is copy wrighted by Warrner Bros. and Jole Silver Pictures. There is no way I am affiliated with them, nor do I know how to contact them. This is a pure fan site, with no intent of copying info and selling it for money. You have been warned!